By now – if you keep up with the YA blog world – you'll be aware that the YA-Sisterhood has been hosting the 2nd YA Crush Tournament. It's a big deal in the book world. Everyone wants their favourite to win and we're doing everything we can to prove that our boy is the best.
Who is my boy? Well that's easy: Zachary Moore! (from the fabulous Shade series by Jeri Smith-Ready!)
Who wouldn't love a guy that is kind and caring; wears an impressive kilt to the Prom; is incredibly strong even when there seems to be no hope; who has an insane amount of patience – especially when it comes to the girl he loves - and HAS A SCOTTISH ACCENT? Yeah, he's just that awesome.
*Gasp* You haven't read about the amazing sexy Scot? That's insane! You must have been hiding under a rock for the past couple of years! Well, here's your chance to get to know just how awesome he is – and for those who have already met him, well you might just want to add to your collection.
Here's the thing. Today (or tomorrow...depending on what part of the world you're visiting from) Zach heads into a tough match in the Crush Tourney - in fact, it's a round that's put a little tension in my relationship with best friend and blog partner, Kerrie (don't worry, we'll be friends again soon enough :P) Zach's up against a very strong opponent, Will Herondale, and he's going to need all the votes her can get! So, in order to give a little something back, I'm hosting a Vote For Zachary Moore Giveaway!
Support Team Kilt - Vote for Zach - and ONE lucky person will win their choice of a paperback copy of Shade, Shift or Shine!
And it is International!
(as long as
The Book Depository
ships to your country for free...because I'm taking full advantage of their shipping offers) But wait! There's more! If you win, the fabulous Jeri Smith-Ready will send you an autographed & personalised bookplate! (also international, so no-one misses out) How cool is that? And I'm speaking from experience here, as I've got a few of those bookplates myself, and they're super awesome.
Vote for Zach and then fill out the form below. It's that simple. Since I also love Will though, I'm not going to deny you the chance to win and meet Zachary – so here's my counter offer. You'll get an extra point – that's an extra chance to win - if you vote for Zach! (I can't actually tell if you voted for Zach, because the votes are private, so please be honest and only mark the 'ZACHARY' box if you actually voted for him.)
Giveaway closed. Winner announced soon.
Details
* One entry per person.
* You must be at least 16 years old or have permission from your parents before entering.
* Giveaway is INTERNATIONAL as long as your country is on The Book Depository's free shipping list
* The giveaway is open now and will run until 11:59pm (AEST) 26th July 2012
* Winner will be picked by Random.org and announced on the blog.
* Winner will also be emailed and have 1 week to reply before a new winner is picked.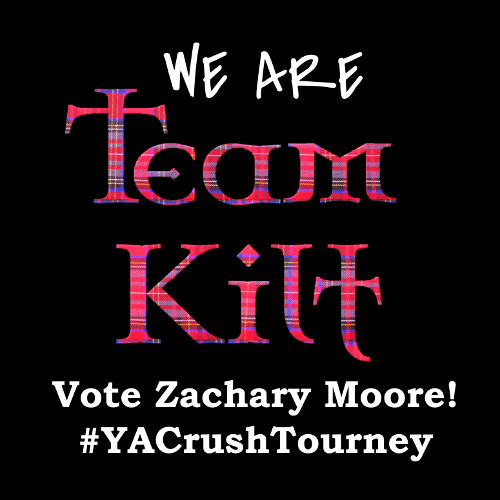 Kim